Experienced and Trusted Dentistry Since 1987
Accepting Blue Cross Blue Shield Insurance
and providing easy financing solutions through CareCredit
Meet Dr. Roman Sadikoff and Our Amazing Dental Staff!
Brand New Dental Office with Brand New Equipment
State-of-the-art Dental Equipment
Comfortable Lobby and Chairs
All Safety Protocols In Place
Extremely Clean and Brand Building
Located in Chesterfield Michigan
Southeast of 24 Mile Rd and Gratiot Ave
Video Testimonials From Our Patients
Google Reviews From Our Patients
Highly recommend. Very professional great people and service
Whoever thought I'd look forward to seeing my dentist? Entire atmosphere of the "personal touch ". Professionalism personified. Thank you all for what you do to ensure my comfort and well being. ❤️
I have been with Dr. Sadikoff since the beginning at Clinton Dental Center. Dr. Sadikoff is very knowledgeable and kind to his approach. Never pressuring any procedures and always gives clear choices of what needs to be done. The staff are the best. Very friendly and seem to enjoy working there, and with Doc. I would highly recommend going there. Their new building is beautiful and well deserved.
A very friendly A nice atmosphere . Never nervous there they they take care of you very well and tell you what it is Thank you for having me able to come there. The place is very clean and real bright with light.
I recently became a patient at Clinton Dental Center. I have never felt more welcome! All the staff are very kind, thoughtful and professional. Dr. Sadikoff thoroughly explains and checks to make sure you are comfortable throughout every procedure.
Clinton Dental exemplifies what a dental office should be from state of the art equipment to an extraordinary professional staff. Anita was the dental assistant working with the doctor on my teeth. She was exceedingly proficient while simultaneously keeping me calm and relaxed. Anita was great,better mention Dr Sadikoff was pretty stellar as well!
The dentist listens to my concerns and the office staff are all extremely helpful. Have had some major work done and Dr Sadikoff made it virtually pain free. Would recommend.
I went in for 4 new crowns on my front teeth and the whole process only took about a month. The temporary teeth looked great, almost as good as the final product. Dr.Sadikoff did an amazing job and i'm very happy with the results. All the great hygienists and receptionists helped make the process that much easier as well. Thank you again!
Hands down the best dentist office I have ever went to. Not only are they professional but so personable. Dr. Sadikoff is one one of the best dentists I have seen. I have recommended his office to several people and will continue to do so.
I loathe going to the dentist because I can't find a dentist that I trust, but with Dr Roman Sadikoff that has changed. He is the most gentle dentist I've ever met. He is very professional and he constantly asked about my comfort level. And his assistant is very nice too. Excellent service and totally impressed. Very highly recommended. If I can give more than 5 stars, I'll give it.
The best dental center I've been to. Everybody is so professional and they make sure you're comfortable. I've never felt any discomfort or pain during any of my appointments here. I would highly recommend Clinton Dental to anyone looking for a new dentist.
Had an amazing first visit! Very friendly and comforting staff and doctor!
It is always a pleasure going to the Clinton Dental Center. Everyone is very personable and helpful from Reception, dental assistants, hygienists and of course, Dr. Sadikoff is absolutely a master with anything that he does for his patients. He goes over and beyond for us....always.
The best dentist office I've been to. Very pleasant atmosphere and the staff are very professional and friendly.
Very friendly, knowledgeable, professional staff! Doctor Sadikoff was excellent! I hate getting shots but never even felt it. If it wasn't for the fact my mouth was numb I never would've known I was numbed. He explained everything before and during my procedure. I would highly recommend this Dental Center.
Dr. Sadikoff and his staff are simply incredible. You feel so welcome walking in. We have received impeccable care in his office and he has forever changed our lives regarding oral care and ortho care, especially for my kids. He's been such a blessing. Him and his staff are so amazing with children and make them feel so comfortable. They genuinely care for their patients and look "outside the box" for solutions and answers. I absolutely recommend them if you want top notch care 🙌
Absolutely wonderful! Dr sadikoff and his staff are great been going here for very long and my kids are starting to go here too! Wouldn't trust any other dentist
I'm thankful I switched this location to receive dental care. All of the staff are friendly. I never waited longer than 5 minutes in the waiting room. Dr. Sadikoff has provided gentle and knowledgeable care. I would 100% recommend Clinton Dental Center.
I've been coming here for about 5 years and they always take care of me. The staff is friendly, my dental hygienist is the best and Dr. Sadikoff is a good one too. Thanks!
Front desk staff is extremely helpful and friendly!! Great work by Dr Sadikoff!
i normally don't leave reviews but, Julie is truly so kind she truly is the best at this place.and i have had many cleaning at this place and hands down the nicest.cant say enough about how great she was:)
I will start by saying I have never liked going to the dentist. My first memory of the dentist as a kid was a terrible experience, and unfortunately, I have needed a good deal of dental work throughout my life. I really avoided the dentist unless there was a problem.This past fall I needed to find a dentist, and I was pretty scared. Someone recommended Clinton Dental Center. It isn't super close, but they were able to get me in quick so I decided to give them a try. Best decision ever, and I am thankful to the friend who recommended him.First, I will say that I am no longer afraid to go to the dentist. I have had quite a bit of dental work since last fall, and Dr. Sadikoff is excellent about making sure you are comfortable. He notices before you can even say anything if you are feeling any discomfort. Pain management during procedures is excellent at this office.You don't come across practitioners like Dr. Sadikoff often. When it comes to the health of my family, I am very devoted to finding and seeking treatment for the cause of problems rather than the symptoms. I am so impressed with Dr. Sadikoff's knowledge of sleep disordered breathing, and am incredibly thankful that we are in the process of working to help my kids become healthier adults some day. Who knew a dentist could be the key to improved health and growth?.Dr. Sadikoff isn't just going to help fix your children's crooked teeth. He is going to address the reason they got that way, and work to fix it. Coming from a person who had braces as a kid and now has crooked teeth again, I can agree that we need to fix the problem that caused them to be crooked in the first place.I have switched my children from their pediatric dentist to Dr. Sadikoff for check ups because he has been so much more knowledgeable about their oral development. If you have children (especially if you have ever noticed them breathing with their mouth open or snoring!), I urge you to make them an appointment with Dr. Sadikoff. You won't be disappointed with this office!
From my very first appointment at Clinton Dental Center, I knew that I was in great hands. I have seen many dentists over the years, Not one has been as professional or thorough as Dr. Sadikoff. I can say with 100% certainty that he and his staff truly care about their patients. Making sure their patients are comfortable and well accommodated is a top priority. I saw Dr. Sadikoff first for braces, unlike many other dentists he was not willing to just put braces on and be done. He made sure I understood that I had TMJ, and treatment for that absolutely needed to be done first. For years my jaw pain went undiagnosed, the relief that he was able to provide through treatment has been a blessing. This entire office is very accommodating in more ways than one when it comes to my busy schedule. I am forever grateful for the outstanding level of care he and his team provide. I recommend Clinton Dental Center to anyone and everyone that is serious about their dental health and really wants a dentist that will work hard to provide the best care possible. I have been seeing Dr. Sadikoff for over a year now and I never want to go anywhere else.
My experience at Clinton Dental was exactly what anyone would hope for when going to a dental office.I received a warm and friendly greeting when arriving in the office. My mind was at ease when sitting in the dental chair knowing I was being taken care of by a professional, knowledgeable staff.Thank you Clinton Dental Center for providing me a great experience.
My experience was awesome.I was extremely impressed with the equipment and docto's concern.
After moving to the area, I found this office through other Google reviews. Oh am I glad that I did! The staff at the office were fantastic, both in their quality of work and in being enjoyable to talk to during my checkup. Plan to spend a few hours your first visit, but it will be time well spent! If you're looking for a new dentist, chose Clinton Dental Center!
I will never go anywhere but Clinton Dental Center!! They are amazing, kind, friendly and very professional
Can't recommend this dentist enough. He is meticulous and never stops learning. Staff all works well together. Wouldn't go anywhere else.
Appointment handled in a very friendly, professional manner. I will return.
Always a good experience. The doctor did such a good job on my new crowns. Everyone in the office is really friendly.
I will be the first to say, I never liked the dentist. My attitude changed when I was introduced to Dr. Sadikoff! He is not only gentle and caring but he is very compassionate. The staff are helpful and friendly. I would recommend him to anyone looking for a dentist.
The Best Dentist around!!! Very pleased with everything!
Professional and very efficient. You are seen with in minutes of your scheduled appointment time.
Most friendly and informative employees..Dr. S. Always explains things well! Employees very friendly..hardly any wait time
The staff is friendly and helpful 🌟!They remind you of appts. in advance 🌟!I always leave with super clean teeth 🌟!They explain everything 🌟!Dr. Sadikoff is very gentle 🌟!
Always perfection. Entire staff is outstanding. Dr. Is tops.
The staff here is incredible, I don't think I will ever enjoy dentist visits, but this office is professional, top-notch care. Glad to be able to go here.
Outstanding. Dr. Sadakoff great dentist. His staff is outstanding as well.
Thank you for being helpful, informative, and gentle in making sure I get the best care.
Great people who do great work. Best dentist office I've been to.
Excellent dental cleaning session with instructions on how to better clean a certain problem area.
Best dentist I've ever been to in my life & The staff is amazing !!
I had a very pleasant experience !!The staff and Doctor took very good care of me !! I will definitely Recommend Clinton Dental Center !!!!
Dr. Sadikoff and his staff are just wonderful. Everyone is so friendly there. My family and I have been going there for about 10 years now and I have referred friends in the area and they love it too! Thank you for taking care of us!
Friendly dental hygienists (Peggy), Dr. Sadikoff very professional dentist. Cares about his patients. We've been with him for 18 years and have never had a bad experience with cleanings, crowns, fillings.
I always receive the best of care no matter what the reason for my visit. My favorite clinical assistant, Briana, makes my visits especially pleasant. Dr. Sadikoff and Briana are a perfect 'team' and always make sure I am comfortable and in no pain. Two thumbs up for Clinton Dental Center!
Clinton Dental has been my only dentist for over 25 years! Very professional never a bad outcome.
I can't say enough wonderful things about this office and Dentist! Customer service is top notch! Dr. Sadikoff is very gentle and kind. His staff is amazing! They all make me feel like I am the most important patient they have. No doubt they make everyone feel that way! I would recommend them to everyone and feel confident they would have the same great experience! And God bless Dr. Sadikoff for correcting my snoring issue! Me and my husband sleep much better now!
Hands down Dr. Sadikoff is THE BEST dentist I have ever had, not only the most knowledgeable but also the most personable , he truly makes going to the dentist stress free, Dr. Sadikoff and his staff treat everyone as if they are "part of the family" , he has not only improved my smile but has made sleeping at night much easier with the state of the art oral appliance he made for me which eliminated my bulky CPAP machine, I had forgotten what a good nights sleep truly was , thank you in no way can express my gratitude. If your looking for THE BEST most professional dentist and dental staff look no further than Clinton Dental Center. You guys are truly amazing! Thank you again!
These guys are great. No pain when they did my crown. Great recommendation on my root canal and they even sat me down and spoke to me directly about the financials of everything. Really good experience. Thanks!
I've had two crowns put in and I've had no pain or problems afterwards. Even right after the anesthetic wore off, I had no discomfort and didn't even need Advil.
Very friendly and knowledgeable staff. They even got me in as a new patient on very short notice on a Saturday. Great people!!
I'm very happy with my visit. All the doctors were extremely nice and explained everything to me. I'm very nervous being at the dentist and they made me feel really welcomed helped me stay calm during the deep cleaning
I have been going to Clinton Dental for over 10 years now. Everyone is always professional and friendly. The team genuinely cares about your well being.
Nice group of people in this dental center. The staff makes you feel like family. Dr. Sadikoff is very professional and shows he is concerned about all our needs. I recommend all my friends who are looking, to go to Clinton Dental Center.
Very polite staff and a very professional setting.
An Overview of Our Services
Pain-Free Family Dentistry
Get the superior dental care you deserve from Clinton Dental Center in Chesterfield, Michigan. For the last 16 years, we have served hundreds of happy families in Macomb County, providing top-level family dentistry and cosmetic dentistry services for patients of all ages.
Advanced Cosmetic Dentistry
Improve your smile and boost your confidence with a cosmetic surgery procedure from Clinton Dental Center. We offer a wide range of surgical options to suit your specific needs.
Full-Mouth Rehabilitation
Suffering from teeth problems like decay and infection? Are you missing teeth or some are broken? Discover your options to fully restore your mouth to a beautiful healthy smile.
TMJ Pain and Headache Treatment
If you experience frequent headaches, facial pain, difficulty swallowing, or teeth grinding, you may have an issue with your temporomandibular joint (TMJ). See how we can help.
Sleep Apnea Treatment
Tired of always feeling tired? You may be suffering from sleep apnea. Up to 20% of Americans experience sleep apnea symptoms, but many of them never seek treatment for their condition. Find out if you are a candidate.
Orthodontics for Kids and Adults
With more than 16 years of service in Chesterfield, Michigan, Dr. Sadikoff and his staff are happy to provide affordable orthodontic services to patients of all ages, including traditional metal braces.
Teeth Whitening
A whiter smile can make all the difference! Unlike over the counter products, our in-office and take-home teeth whitening systems are safer, faster, and more effective.
Invisible Braces
Interested in getting clear aligners? Not sure where to start or if invisible braces are right for you? Find out if this affordable option will work for your situation.
The Latest Dental News and Tips
Invisalign is a popular alternative to metal braces, but this program doesn't work for every smile. If you're weighing your options, you may wonder how…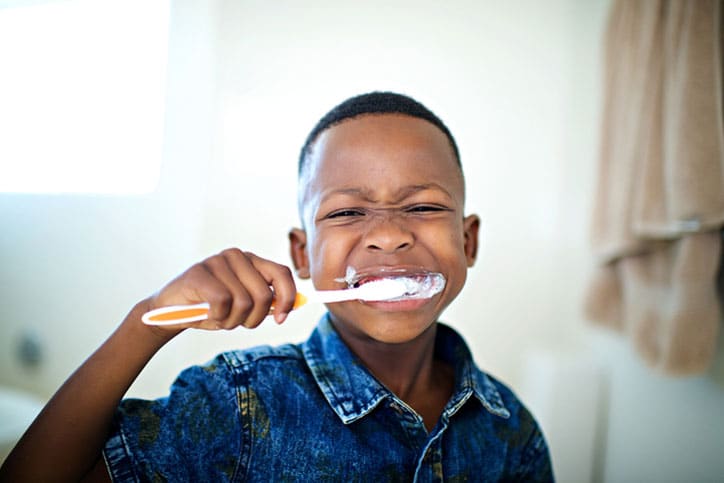 Children rely on their parents for all forms of hygiene until they reach a certain age. This is a big milestone for families because it…
One of the biggest perks to wearing invisible braces is that you can remove them for brushing and flossing. Teeth brushing with metal braces is…